A warring state is the paradise for the mighty and belligerent. In the era of the Three Kingdoms, heroes are infatuated in using fighting competitions as a means to develop their friendship. When players reached a particular level, they will be able to enter the Arena and contest with other players.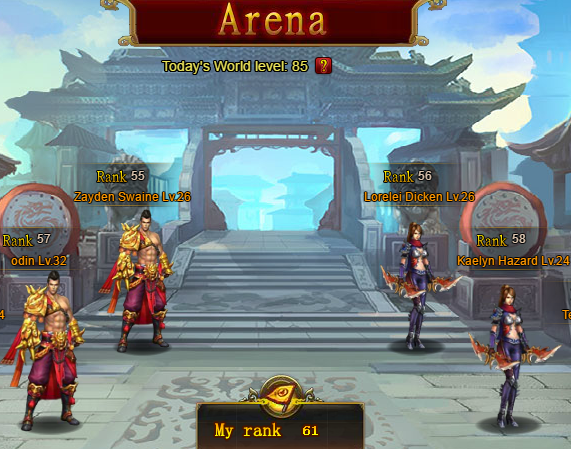 In the process of challenging each other and competing for higher ranking, players would not only extract joy and satisfaction from the process itself, but are also offered an excellent platform to develop their characters, and to acquire a variety of precious equipments as well as coins and reputation.
Each day the player may challenge other players in the Arena for a maximum of 15 times. If you are a VIP player, you can spend more Gold to get more chances of fighting as part of your VIP privilege, so that you can satisfy your thirst for PVP.
In the Arena, players can choose other player to challenge them for a PK. You are fully allowed to check the details of the player you challenge, as well as to arrange formations and boost your character prior to the combat. At the end of a PK round, the victorious side will earn awards, while the losing side will still receive a few bits of awards as consolation.
In addition, extra awards will be distributed to players every 3 days, the value of which depends on the players' rankings in the Arena. As long as a player has a ranking, awards will be given, and ofcourse players with higher ranking will receive greater awards.
Bellow is the reward list for Arena Rank 1 - 25 :
| | | |
| --- | --- | --- |
| Rank | Fame | Coins |
| 1 | 10000 | 2000000 |
| 2 | 5000 | 1700000 |
| 3 | 4000 | 1600000 |
| 4 | 3000 | 1500000 |
| 5 | 2800 | 1400000 |
| 6 | 2600 | 1200000 |
| 7 | 2400 | 1150000 |
| 8 | 2200 | 1100000 |
| 9 | 2100 | 1050000 |
| 10 | 2000 | 1000000 |
| 11 | 1950 | 890000 |
| 12 | 1900 | 880000 |
| 13 | 1850 | 870000 |
| 14 | 1800 | 860000 |
| 15 | 1750 | 850000 |
| 16 | 1700 | 740000 |
| 17 | 1650 | 730000 |
| 18 | 1600 | 720000 |
| 19 | 1550 | 710000 |
| 20 | 1500 | 700000 |
| 21 | 1450 | 640000 |
| 22 | 1400 | 630000 |
| 23 | 1350 | 620000 |
| 24 | 1300 | 610000 |
| 25 | 1250 | 600000 |