Hi all,
We prepared 2 End of Week Exclusive Offers for all you guys. Limited time offer, please go to attend ASAP!
Exclusive Offer 1: 50% Gold Bonus for ALL recharge
Players can enjoy 50% bonus Gold for ALL recharge amount! NO number of time limits! Just recharge and get 50% extra for EVERY RECHARGE!
Extra Gold will be automatically added to your account.
Our Recharge Center: https://pay.carolgames.com/?game_id=30
Event Period: 0:00 8/19/2017 - 23:59 8/22/2017(SGT) [11:59 8/22/2017(EST)]
Please mention your TIME ZONE.
Exclusive Offer 1 Pic:


Exclusive Offer 2: Rushing Purchase
Click Grateful Feedback button to attend the event!
We are selling: Yellow Doggy, Mythical Beast, Candle Dragon and Advanced Pet Ration for a very low price! Limited Time Offer, go to buy ASAP!
Remind: If you cannot make purchase after completed recharge, please refresh your game!
Event Period: 0:00 8/19/2017 – 23:50 8/21/2017 for BOTH LOCAL TIME of SGT and EST
Exclusive Offer 2 Pic: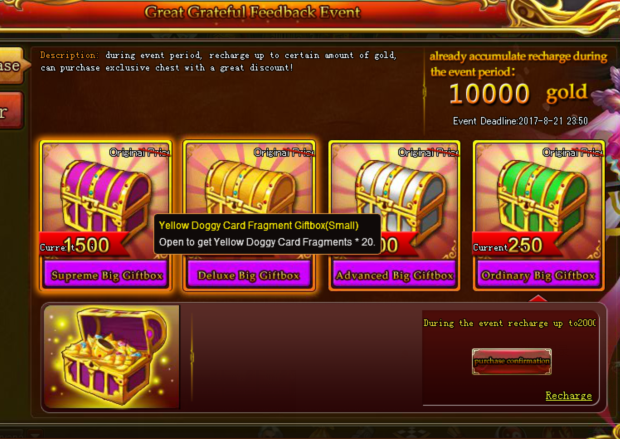 Best,
STK Operational Team